Et c'est reparti pour Led Zeppelin !! L'autre jour, j'ai abordé un concert donné en juin 1977 au Madison Square Garden de New York, salle (ou plutot, arena) mythique. Place maintenant à un concert que le groupe de Page, Plant, Bonham et Jones a donné au...Madison Square Garden de New York (ah, bon), mais en 1975, cette fois-ci. Il s'agit évidemment, encore une fois, d'un enregistrement pirate, un bootleg. En fait, comme toujours, plusieurs bootlegs existent sur ce concert donné le 2 février, alors que New York était, apparemment, sous un manteau neigeux (Robert Plant annonce au public qu'il a fallu que Led Zeppelin traverse quatre blocs de rues sous la neige pour venir jouer au Garden, d'où le nom d'un des bootlegs du show). Le bootleg que je possède s'appelle That's All Right New York, mais il en existe un autre du nom de Four Blocks In The Snow, un autre du nom de Madison Square Garden 1975, etc... Il 'agit, du moins dans une partie des versions bootlegs et notamment la mienne, d'un triple live, quasiment 3 heures de concert (170 minutes en gros), pour 15 titres.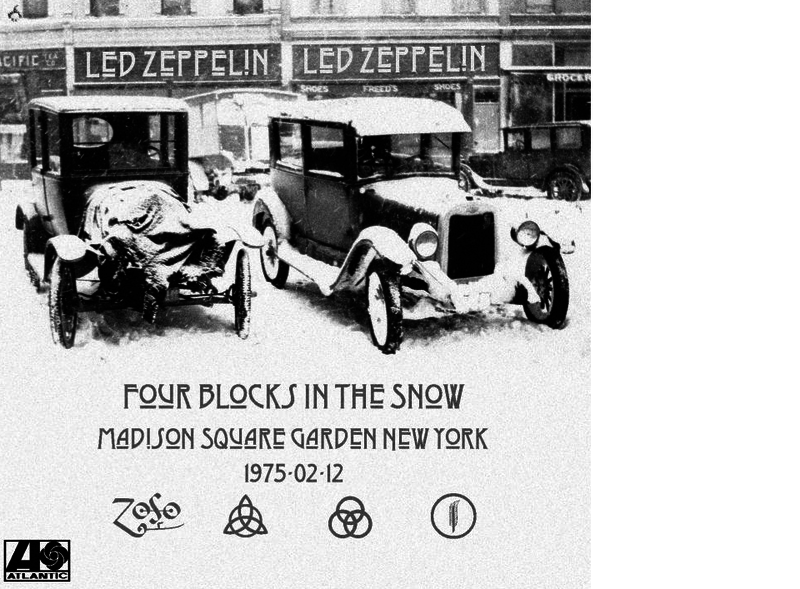 Bien entendu, entre plusieurs concerts de 1975, la setlist ne variait pas beaucoup (les gigantesques concert d'Earl's Court en mai sont une belle exception), la preuve en est ici, une fois de plus. D'une qualité audio exceptionnelle (j'insiste, c'est vraiment du grand art, quasiment aussi parfait que When We Were Kings, concert du 25 mai à Earl's Court), That's All Right New York s'ouvre sur Rock And Roll et Sick Again, se termine sur Black Dog et Heartbreaker, et offre 20 minutes de No Quarter et de Moby Dick, et 33 minutes de Dazed And Confused. Normal, quoi. Mais attention, de grandes versions de No Quarter, Dazed And Confused (au cours duquel, comme à son habitude, Plant chante le Woodstock de Joni Mitchell ; il la chante sur le même air monotone que celui qu'il utilisait, dans les versions 1973 de Dazed And Confused, pour chanter le San Francisco (Be Sure To Wear Some Flowers In Your Hair) de Scott McKenzie), In My Time Of Dying, Trampled Under Foot, Stairway To Heaven, The Song Remains The Same/The Rain Song, Kashmir et Over The Hills And Far Away. Ce concert est juste prodigieux, et s'il n'y avait les shows d'Earl's Court, c'est bien simple, ça serait, selon moi, le meilleur (du moins, de ceux que je connais, et je connais aussi ceux de Dallas, Saint-Louis et Baton Rouge, et les deux derniers assurent à donf' aussi) show de Led Zeppelin pour 1975.
Les fans adoreront, d'autant plus que, je le redis, la qualité sonore est géniale. Plant est en forme, Page aussi, Jones et Bonham ne font au final pas trop chier le brave public avec leurs improvisations sur, respectivement, No Quarter et Moby Dick (le solo de batterie dure 20 minutes, ça va encore ; en 1977, rajoutez souvent un quart d'heure, et souffrez...souffrez), No Quarter étant même franchement remarquable ici, pour tout dire (ceci dit, les versions live de 1973 restent les plus marquantes, les plus belles, avec 12/14 minutes en gros). Bref, ce concert du 2 février au Madison Square Garden est un grand moment de live, tout simplement !
CD 1
Rock And Roll
Sick Again
Over The Hills And Far Away
In My Time Of Dying
The Song Remains The Same
The Rain Song
Kashmir
CD 2
No Quarter
Trampled Under Foot
Moby Dick
CD 3
Dazed And Confused
Stairway To Heaven
Whole Lotta Love
Black Dog
Heartbreaker