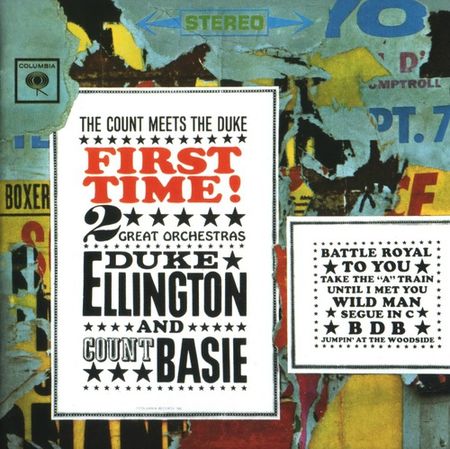 Anthologique : deux des plus grands noms du jazz, deux leaders d'orchestres de jazz (et pianistes), réunis sur un album. Cet album, datant de 1961, album studio par ailleurs, est inimaginablement puissant. Il s'appelle First Time ! The Count Meets The Duke, et sous sa pochette en affiche de rue, il est un disque de collaboration entre le Count Basie Orchestra et le Duke Ellington Orchestra. Excusez du peu, mais on est ici dans la grande aristocratie du jazz et du swing. Le disque est, qui plus est, produit par un titan du genre, un spécialiste ayant notamment oeuvré avec Miles Davis : Teo Macero. En 41 minutes, cet album offre 8 titres anthologiques, pas très longs dans l'ensemble (le plus long fait 8,20 minutes seulement), et fait partie des intouchables du jazz. Les musiciens sont nombreux : Ellington et Basie au piano ; Cat Anderson, Willie Cook, Eddie Mullens, Ray Nance, Sonny Cohn, Thad Jones, Lennie Johnson et Snooky Young aux trompettes ; Louis Blackburn, Lawrence Brown, Henry Coker, Quentin Jackson et Benny Powell aux trombones ; Juan Tizol au trombone à valve ; Jimmy Hamilton, Johnny Hodges, Frank Wess, Paul Gonsalves, Frank Foster, Budd Johnson, Russell Procope, Marshall Royal, Charlie Fowlkes et Harry Carney aux divers saxophones (et clarinette pour Royal et Procope) ; Freddie Green à la guitare ; Aaron Bell et Eddie Jones aux basses ; Sam Woodyard et Sonny Payne aux batteries. Soit les deux orchestres, les deux big bands, celui du 'Comte' et celui du 'Duc'. Ouf !
Count Basie
Que dire ? Quiconque a déjà entendu les noms de Count Basie et Duke Ellington sait à quel point on nage ici avec les plus grands dauphins du jazz. Un morceau tel que Take The 'A' Train (composé par Billy Strayhorn) est inoubliable, on le trouve ici en troisième position, bien placé, et malgré qu'il soit un des titres les plus courts du lot (3,45 minutes), il est un des sommets de ce First Time ! The Count Meets The Duke qui ne renferme de toute façon quasiment que ça. Déjà, le premier morceau, dantesque, Battle Royal, le bien nommé, se finissant en une cavalcade ahurissante. Et ce Segue In C de 8 minutes, le Wild Man inoubliable ouvrant la face B (il dure 2 minutes de moins que Segue In C), B D B (pour Basie, Duke & Billy Strayhorn, co-auteur du morceau avec le Duke), Jumpin' In The Woodside (seulement 3 minutes, le plus court), tout est anthologique. La production de Macero est remarquable, les interactions entre les pianos de Basie et d'Ellington sont inoubliables, magnifiques, les réponses de l'un à l'autre percutent, les atmosphères sont terribles (Until I Met You)...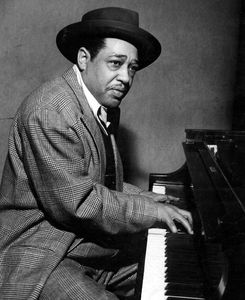 Duke Ellington
A l'évidence, ce disque majeur est l'oeuvre la plus importante de ces deux artistes de jazz, même si, concernant Ellington, son Ellington At Newport de 1956 est parfait (je connais moins les albums de Count Basie). First Time ! The Count Meets The Duke est un chef d'oeuvre, 41 minutes de bonheur le plus absolu pour fan de jazz, un disque intemporel à écouter et à réécouter. De toute façon, la rencontre entre deux géants tels qu'eux ne pouvait pas, ne pouvait décemment pas, aboutir à autre chose qu'un monument. Essentiel parmi les essentiels les plus absolus du jazz.
FACE A
Battle Royal
To You
Take The 'A' Train
Until I Met You
FACE B
Wild Man
Segue In C
B D B
Jumpin' At The Woodside