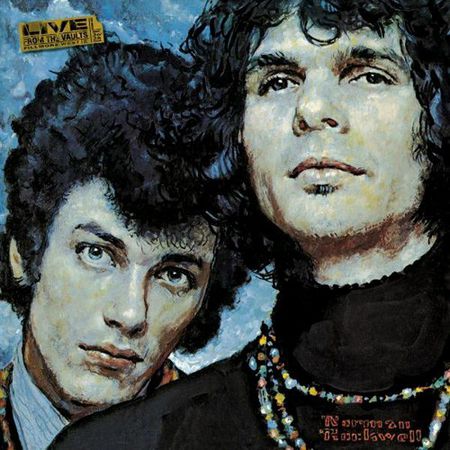 Sorti en 1969, ce double album live est le premier album du duo Mike Bloomfield et Al Kooper. Lesquels avaient déjà travaillé ensemble sur Super Session, en 1968, un magistral album de blues-rock sur lequel les deux gars (Bloomfield : guitare ; Kooper : claviers) jouaient ensemble sur la face A (sur la B, Bloomfield parti, Kooper avait engagé Stephen Stills pour le remplacer). The Live Adventures Of Mike Bloomfield And Al Kooper, sorti donc un an plus tard, et toujours double (85 minutes en tout), est le premier album en duo, et il est, donc, live, enregistré au Fillmore West de San Francisco les 26 à 28 septembre 1968. Ce double album est aussi interprété par John Kahn à la basse et Skip Prokop à la batterie, et c'est Bloomfield (à gauche sur la pochette) qui chante. On notera une participation de Carlos Santana à la guitare sur un titre (Sonny Boy Williamson), et d'Elvin Bishop sur un autre (No More Lonely Nights, qu'il chante) et aussi le fait que cet album est quasi intégralement constitué de reprises de standards blues, soul, rock et folk.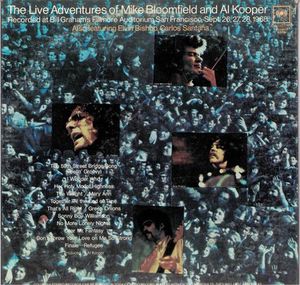 Pochette (verso)
Il suffit de regarder le tracklisting plus bas pour en juger, The Live Adventures Of Mike Bloomfield And Al Kooper est plus un album de reprises (en live) qu'autre chose, et toutes à la sauce blues-rock : The 59th Street Bridge Song (Feelin' Groovy) est de Simon & Garfunkel, magnifiée par un Al Kooper au sommet de son art, The Weight est la fameuse chanson du Band (en version instrumentale, ici, tout comme Green Onions (anthologique version), fameux morceau de Booker T. & The M.G.'s ; That's All Right est la chanson d'Arthur Crudup qui sera immortalisée par Elvis Presley, Dear Mr. Fantasy est une chanson du groupe de rock psychédélique Traffic (on y trouve aussi des bribes instrumentales du Hey Jude des Beatles), Mary Ann est de Ray Charles, No More Lonely Nights est de Sonny Boy Williamson II, Don't Throw Your Love On Me So Strong est d'Albert King, I Wonder Who est de Henry Burr et sera immortalisée par Ray Charles en son temps, Together 'Til The End Of Time est de Brenda Holloway. Le reste (qui contient deux speeches d'intro, un par disque, et qui sont respectivement de Bloomfield pour le premier disque et Kooper pour le deuxième), ce sont des morceaux signés du duo : Her Holy Modal Highness (sur Super Session, un morceau aussi long, soit 9,10 minutes, s'appelait Her Holy Modal Majesty), Finale - Refugee sont du duo. Sonny Boy Williamson est signée Jack Bruce (de Cream) et Paul Jones.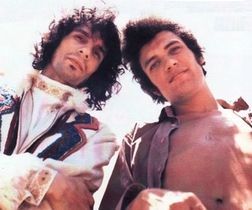 Dans l'ensemble, ce live est vraiment extraordinaire, un pur régal de blues-rock comme on n'en fait plus, hélas, ou si peu. Tout est parfait, ici, les reprises, certes nombreuses (trop par rapport aux compositions originales), sont immenses, l'interprétation est épatante, le son est, ma foi, très bon... The Live Adventures Of Mike Bloomfield And Al Kooper est, dans l'ensemble, un classique absolu du blues-rock, et du rock tout court ! Au sujet des deux zigotos qui en son les auteurs, Bloomfield est mort en 1981 (overdose, je crois), mais Kooper est, lui, toujours là. C'est le même Kooper qui est derrière les grands albums de Bob Dylan de la période 1965/1967 (Blonde On Blonde), aux claviers et arrangements, mais ça, je pense que vous le saviez (il a aussi produit Lynyrd Skynyrd, au tout début) ! En résumé, ce disque et Super Session, déjà abordé ici, sont rigoureusement indispensables.
FACE A
Opening Speech
The 59th Street Bridge Song (Feelin' Groovy)
I Wonder Who
Her Holy Modal Highness
FACE B
The Weight
Mary Ann
Together 'Til The End Of Time
That's All Right
Green Onions
FACE C
Opening Speech
Sonny Boy Williamson
No More Lonely Nights
FACE D
Dear Mr. Fantasy
Don't Throw Your Love On Me So Strong
Finale - Refugee