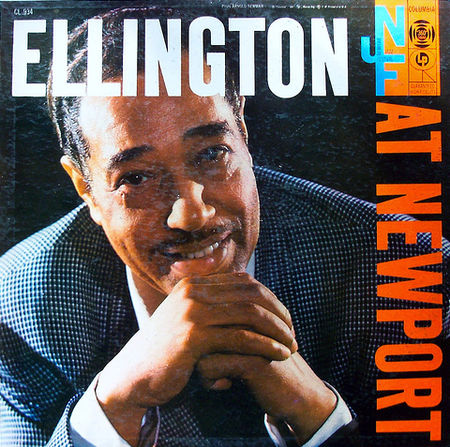 En 1956 sort un des plus grands albums de jazz jamais faits, j'ai nommé Ellington At Newport, un live enregistré le 7 juillet 1956 au Newport Jazz Festival. L'auteur de cet album n'est autre que le fameux Duke Ellington, et son big band, big band qui était constitué de Harry Carnet, Paul Gonsalves, Jimmy Hamilton, Johnny Hodges et Russell Procopes (saxophones baryton, alto et ténor), Sam Woodyard (batterie), John Willie Cook, William 'Cat' Anderson, Willis Nance et Clarke Terry (trompettes), James Woode (contrebasse), Quentin Jackson, John Sanders et Britt Woodman (trombones) et, au chant, Jimmy Grissom et Ray Nance. Ellington est, lui, au piano et à l'orchestration générale. L'album dure 43 minutes, pour, au choix, 3 ou 6 titres. Ou 5 (ma manière de voir l'album).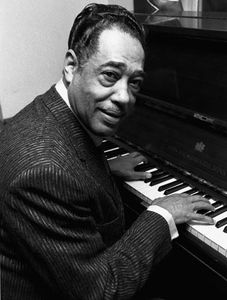 Je m'explique : la première face est constituée d'une suite, Newport Jazz Festival Suite, qui dure 23 minutes et est scindée en trois morceaux (Festival Junction, Blues To Be There et Newport Up). Trois titre, ou un seul. Et sur la face B, mis à part Jeep's Blues, on a Diminuendo And Crescendo In Blue, 15 minutes constituées de deux morceaux réunis par le biais, au centre, d'un solo de Paul Gonsalves (saxo ténor). Dont, deux ou trois titres sur la face B, c'est selon. Je pense, perso, qu'il ne faut pas séparer les deux parties de la suite de la face B (Diminuendo And Crescendo In Blue), mais que les trois parties de la suite de la face A sont quand même distinctes, et à séparer. Dont, 5 morceaux !
Version CD (mention 'complete')
Et le moins que l'on puisse dire, c'est que cet Ellington At Newport, sorti à une période où le Duke, le fameux Sir Duke de la chanson de Stevie Wonder (qui avait été faite en son hommage, deux ans après sa mort), était en perte de vitesse, est un grand disque de jazz. Remarquable production, et durée parfaite pour l'époque, ce live regorge de grands moments, comme le final de Diminuendo And Crescendo In Blue, ou comme Newport Up. Jeep's Blues, 5 minutes ouvrant la seconde face, est excellent aussi. Après, la version vinyle ne contient que le tiers de la performance de Newport du Duke, il existe désormais une édition double CD proposant l'intégralité du show (avec, entre autres grands moments, Take The "A" Train), et qui est ultra conseillée. Mais en tant que tel, cet album de 1956 est à lui seul un monument, et se suffit à lui-même. Je le préfère à la version CD, longue de deux heures, excellente, mais moins 'spontanée' !
FACE A
Newport Jazz Festival Suite :
a) Festival Junction
b) Blues To Be There
c) Newport Up
FACE B
Jeep's Blues
Diminuendo And Crescendo In Blue