En 1970, les 23 et 24 octobre, le supergroupe d'Eric Clapton, Derek & The Dominoes (Clapton à la guitare et chant ; Carl Radle à la basse ; Bobby Whitlock au clavier ; Jim Gordon à la batterie) se produit au Fillmore East, à New York. En 1973, un live, In Concert, sort, double album offrant 9 titres. En 1994, une version remastérisée et augmentée de 5 bonus-tracks sort, Live At The Fillmore. Le double vinyle d'époque durait 90 minutes, ce double CD, lui, en dure 120. Deux heures de bonheur blues-rock. On en oublie même que Duane Allman, guitariste des Allman Brothers ayant participé à l'album studio de Derek & The Dominoes (Layla And Other Assorted Love Songs, 1970, sorti après ces shows, mais enregistré avant), ne joue pas sur ce live. Après avoir participé à l'album studio, Duane (qui mourra dans un accident de bécane en octobre 1971) rejoindra son groupe.
Double vinyle original sorti en 1973
En deux heures de show, Derek & The Dominoes alignent ici quelques unes des meilleures chansons de leur double album (tristesse de constater que ni Layla, ni Bell Bottom Blues, ni Anyday ne s'y trouvent). En tout, six titres sont issus du double album studio, dont la reprise sublime du Little Wing de Hendrix (alors fraîchement décédé, il n'aura pas eu le temps de l'entendre). Si Key To The Highway, Why Does Love Got To Be So Sad ? ou Tell The Truth déménagent, le meilleur moment du live est difficile à définir, tant, dans l'ensemble, Live At The Fillmore assure. On y trouve le sempiternel Crossroads qui se trouve sur quasiment tout live avec Clapton, on y trouve même un titre de Blind Faith, Presence Of The Lord. Là aussi, un titre que Clapton, en solo, jouera souvent par la suite.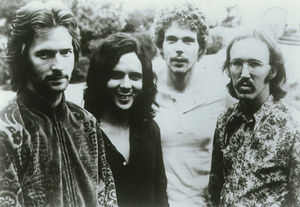 Nobody Knows You When You're Down And Out, Bottle Of Red Wine, le long (10 minutes) et grandiose Blues Power, les 20 minutes de Let It Rain, autant de grands moments pour deux heures de blues-rock endiablé, production exemplaire de Bill Levenson. Un double live anthologique !
CD 1
Got To Get Better In a Little While
Why Does Love Got To Be So Sad ?
Key To The Highway
Blues Power
Have You Ever Loved A Woman ?
Bottle Of Red Wine
CD 2
Tell The Truth
Nobody Knows You When You're Down And Out
Roll It Over
Presence Of The Lord
Little Wing
Let It Rain
Crossroads