En 1972, The Band sort son premier album live, un double (toujours en CD, car un deuxième disque de bonus-tracks a été rajouté ; mais les deux disques vinyles sont sur un seul CD, en revanche, de 78 minutes), enregistré entre les 28 et 31 décembre 1971 à la New York's Academy Of Music : Rock Of Ages. C'est, également, leur cinquième album en tout. En 1980, il sera réédité en deux fois (deux disques live séparés, Rock Of Ages, Vol 1 et Vol 2) et une première édition CD proposait une version légèrement raccourcie du live (puis une édition double CD, et enfin, en 2001, l'édition simple CD avec bonus-tracks).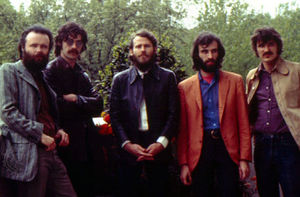 Live franchement réussi, proposant aussi bien des chansons très connues du Band (Up On Cripple Creek, The Shape I'm In, The Weight, The Night They Drove Old Dixie Down, Stage Fright) que des titres tout aussi réussis, mais plus confidentiels, connus des amateurs, des connaisseurs es Band, mais pas des néophytes (des chansons comme The W.S. Walcott Medicine Show, Caledonia Mission, Life Is A Carnival ou Rockin' Chair). Bob Dylan apparait sur l'album, dans les quatre derniers titres du CD bonus, titres provenant de la performance du 31 décembre, concert au cours duquel le Barde interviendra amicalement (deux ans plus tard, Before The Flood, double live, sortira, un album aussi bien du Band que de Dylan). Ces quatre derniers titres sont d'ailleurs tous signés Dylan, on a d'ailleurs Like A Rolling Stone (et When I Paint My Masterpiece, présent sur l'album précédent du Band, le moyen Cahoots).
Rock Of Ages est un très bon live, le Band est en forme et livre d'excellentes interprétations (Chest Fever, King Harvest (Has Surely Come) ou Time To Kill). On regrettera l'absence de titres tels que Tears Of Rage, When You Awake, Look Out Cleveland, Strawberry Wine, To Kingdom Come ou All La Glory, mais dans l'ensemble, un fan du Band devrait largement y trouver son compte.
FACE A
Introduction
Don't Do It
King Harvest (Has Surely Come)
Caledonia Mission
Get Up Jake
The W.S. Walcott Medicine Show
FACE B
Stage Fright
The Night They Drove Old Dixie Down
Across The Great Divide
This Wheel's On Fire
Rag Mama Rag
FACE C
The Weight
The Shape I'm In
The Unfaithful Servant
Life Is A Carnival
FACE D
The Genetic Method
Chest Fever
(I Don't Want To) Hang Up My Rock'n'Roll Shoes
CD 2 (bonus-tracks)
Loving You Is Sweeter Than Ever
I Shall Be Released
Up On Cripple Creek
The Rumor
Rockin' Chair
Time To Kill
Down In The Flood
When I Paint My Masterpiece
Don't Ya Tell Henry
Like A Rolling Stone