Attention, oeuvre titanesque. Commercialisés à l'unité, ces six albums sont absolument grandioses, et contiennent le meilleur de ce que Frank Zappa (et son groupe les Mothers Of Invention) a produit en live. Six albums, tous les six doubles, ce qui fait donc 12 galettes remplies jusqu'à la gueule de morceaux jusqu'alors inédits, issus de l'ensemble (années 60 à 80) de la carrière de Zappa. On a de tout, ici, mélangé (pas de chronologie), sur 12 disques. You Can't Do That On Stage Anymore ("On ne peut plus faire ça sur scène désormais"), tous les fans de Zappa vous le diront, est le summum, en live, du bonhomme moustachu.
On a des doublons, forcément, comme RDNZL, Advance Romance, Tryin' To Grow A Chin, A Pound For A Brown, Honey, Don't You Want A Man Like Me ?, Approximate ou The Torture Never Stops, notamment, présents deux fois sur l'ensemble des six double-albums. Autrement dit, ces doublons sont assez peu gênants, surtout qu'il ne s'agit, évidemment, pas des mêmes versions live, pas forcément issues des mêmes périodes (par exemple, A Pound For A Brown date de 1969, mais peut très bien avoir été joué plusieurs années après). Dans l'ensemble, ces six volumes de You Can't Do That On Stage Anymore sont remarquables. On notera que le second volume contient non pas une compilation de titres joués live sur une période étendue (du style, des morceaux de concerts des années 60 mélangés avec des titres enregistrés live dans les années 70 ou 80), mais l'intégralité d"un concert unique, joué à Helsinki en septembre 1974. Ce second volume (le bleu) est le meilleur rien que pour ça.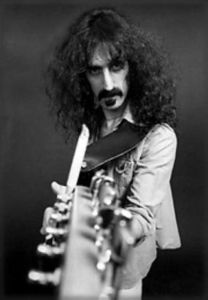 Mais honnêtement, dire quel est le meilleur des 5 autres est mission impossible. Ona de tout, une vraie auberge espagnole musicale, des titres issus de tous les albums de Zappa (on a même droit à la Groupie Routine de Flo & Eddie, délire verbal et improvisé, ainsi qu'à des titres de 200 Motels !), de toutes les périodes, avec les premiers Mothers Of Invention, avec le big band de 1972, avec Flo & Eddie... Un fan de Zappa ne doit pas négliger cet apport impressionnant que représente cette anthologie live (tous les volumes doubles sont vendus séparément, hélas, souvent à un prix rébarbatif en magasin, mais ça vaut son prix, croyez-moi). Grandiose !
You Can't Do That On Stage Anymore (Vol. 1) :
CD 1 : The Florida Airport Tape/Once Upon A Time/Sofa N°1/The Mammy Anthem/You Didn't Try To Call Me/Diseases Of The Band/Tryin' To Grow A Chin/Let's Make The Water Turn Black +Harry, You're A Beast+The Orange County/The Groupie Routine/Ruthie-Ruthie/Babbette/I'm The Slime/Big Swifty/Don't Eat The Yellow Snow//CD 2 : Plastic People/The Torture Never Stops/Fine Girl/Zomby Woof/Sweet Leilani/Oh No/Be In My Video/The Deathless Horsie/The Dangerous Kitchen/Dumb All Over/Heavenly Bank Account/Suicide Chump/Tell Me You Love Me/Sofa N°2
You Can't Do That On Stage Anymore (Vol. 2) :
CD 1 : Tush Tush Tush (A Token Of My Extreme)/Stink-Foot/Inca Roads/RDNZL/Village Of The Sun/Echidna's Arf (Of You)/Don't You Ever Wash That Thing ?/Pygmy Twylyte/Room Service/The Idiot Bastard Son/Cheepnis// CD 2 : Approximate/Dupree's Paradise/Satumaa (Finnish Tango)/T'Mershi Duween/The Dog Breath Variations/Uncle Meat/Building A Girl/Montana (Whipping Floss)/Big Swifty
You Can't Do That On Stage Anymore (Vol. 3) :
CD 1 : Sharleena/Bamboozled By Love+Owner Of A Lonely Heart/Lucille Has Messed My Mind Up/Advance Romance/Bobby Brown Goes Down/Keep It Greasey/Honey, Dont You Want A Man Like Me ?/In France/Drowning Witch/Ride My Face To Chicago/Carol, You Fool/Chana In De Bushwop/Joe's Garage/Why Does It Hurt When I Pee ?//CD 2 : Dickie's Such An Asshole/Hands With A Hammer/Zoot Allures/Society Pages/I'm A Beautiful Guy/Beauty Knows No Pain/Charlie's Enormous Mouth/Cocaine Decisions/Nig Biz/King Kong/Cosmik Debris
You Can't Do That On Stage Anymore (Vol. 4) :
CD 1 : Little Rubber Girl/Stick Together/My Guitar Wants To Kill Your Mama/Willie The Pimp/Montana/Brown Moses/The Evil Prince/Approximate/Love Of My Life/Let's Move To Cleveland/You Call That Music ?/Pound For A Brown/The Black Page/Take Me Out To The Ball Game/Filthy Habits/The Torture Never Stops//CD 2 : Church Chat/Stevie's Spanking/Outside Now/Disco Boy/Teen-Age Wind/Truck Driver Divorce/Florentine Pogen/Tiny Sick Tears/Smell My Beard/The Booger Man/Carolina Hard-Core Ecstasy/Are You Upset ?/Little Girl Of Mine/The Closer You Are/Johnny Darling/No, No Cherry/The Man From Utopia/Mary Lou
You Can't Do That On Stage Anymore (Vol. 5) :
CD 1 : The Downtown Talent Scout/Charles Ives/Here Lies Love/Piano - Drum Duet/Mozart Ballet/Chocolate Halvah/JCB & Kansas On The Bus #1/Run Home Slow : Main Title Theme/The Little March/Right There/Where Is Johnny Velvet ?/Return Of The Hunch-Back Duke/Trouble Every Day/Proto-Minimalism/JCB & Kansas On The Bus #2/My Head ?/Meow/Baked-Bean Boogie/Where's Our Equipment ?/FZ - JCB Drum Duet/No Waiting For The Peanuts To Dissolve/A Game Of Cards/Underground Freak-Out Music/German Lunch/My Guitar Wants To Kill Your Mama//CD 2 : Easy Meat/The Dead Girls Of London/Shall We Take Ourselves Seriously ?/What's New In Baltimore ?/Moggio/Dancin' Fool/RDNZL/Advance Romance/City Of Tiny Lites/A Pound For A Brown On The Bus/Doreen/Black Page N°2/Geneva Farewell
You Can't Do That On Stage Anymore (Vol. 6) :
CD 1 : The M.O.I. Anti-Smut Loyalty Oath/The Poodle Lecture/Dirty Love/Magic Fingers/The Madison Panty-Sniffing Festival/Honey, Don't You Want A Man Like Me ?/Father O'Blivion/Is That Guy Kidding Or What ?/I'm So Cute/White Person/Lonely Person Devices/Ms Pinky/Shove It Right In/Wind Up Workin' At A Gas Station/Make A Sex Noise/Tracy Is A Snob/I Have Been In You/Emperor Of Ohio/Dina-Moe Humm/He's So Gay/Camarillo Brillo/Muffin Man//CD 2 : NYC Halloween Audience/The Illinois Enema Bandit/Thirteen/Lobster Girl/Black Napkins/We're Turning Again/Alien Orifice/Catholic Girls/Crew Slut/Tryin' To Grow A Chin/Take Your Clothes Off When You Dance/Lisa's Life Story/Lonesome Cowboy Nando/200 Motels Finale/Strictly Genteel