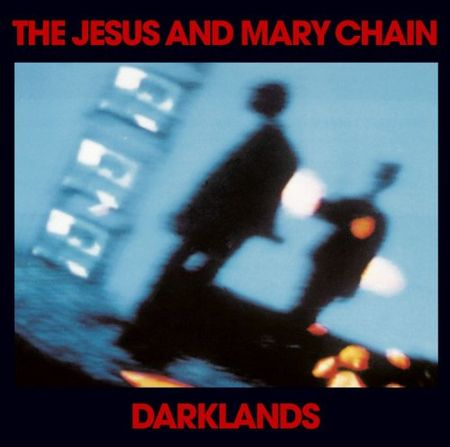 Darklands est le deuxième album de The Jesus And Mary Chain, et date de 1987. Le groupe se retrouve à deux membres (William et Jim Reid,tous deux chant/guitare/basse/programmation) à la suite du départ de leur batteur Bobby Gillespie, parti faire une carrière solo (il fondera Primal Scream). Le groupe, réduit aux deux frangins, fait, avec Darklands, une oeuvre très sombre et gothique. Pas de batterie, mais une programmation synthétique, une drum machine qui donne à l'album une atmosphère assez noisy et industrielle.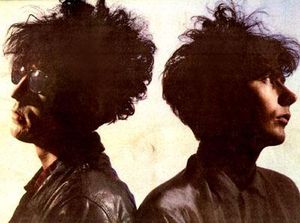 L'album est court (35 minutes) et probablement meilleur que Psychocandy. En tout cas, je préfère Darklands de beaucoup. Rien que le titre de l'album donne le ton, et la chanson-titre, qui ouvre le bal (Primal Scream la reprendra, au passage), est le meilleur exemple à proposer pour définir l'ambiance de l'album : sombre, crépusculaire, un peu pop, mais quand même très froide et même malsaine. Les titres des chansons sont éloquents : Nine Million Rainy Days, Down On Me, Fall, Happy When It Rains... Le chant est partagé entre William (Darklands, On The Wall, Nine Million Rainy Days) et Jim (le reste). Aucune mauvaise chanson, même si j'aime moins Cherry Came Too.
Darklands est un disque sauvage et beau, parfois malsain et parfois pop, qui marque le début d'un nouveau style pour The Jesus And Mary Chain : après le rock gothico-noisy de Psychocandy, place au rock alternatif gothico/indépendant. Assez moderne, ce disque est souvent moins cité que Psychocandy, mais, croyez-moi, il lui est supérieur en tous points (Psychocandy reste quand même excellent, hein) !
FACE A
Darklands
Deep One Perfect Morning
Happy When It Rains
Down On Me
Nine Million Rainy Days
FACE B
April Skies
Fall
Cherry Came Too
On The Wall
About You