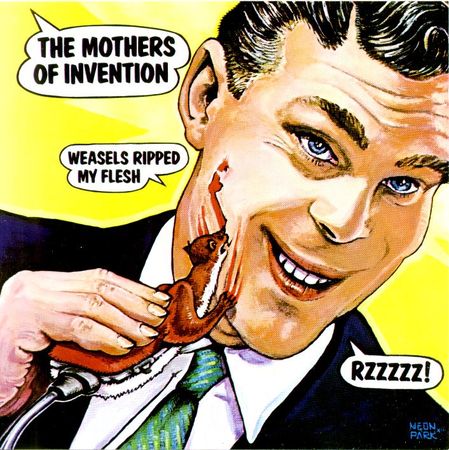 Weasels Ripped My Flesh, sous sa pochette rigolote, est un disque de Frank Zappa & The Mothers Of Invention datant de 1970. L'album sera un des derniers (voire même le dernier, si je ne me trompe pas) des Mothers sous leur formation classique, à savoir Jimmy Carl Black (batteur et Indien du groupe), Roy Estrada (basse), Bunk Gardner (saxophone), Motorhead Sherwood (saxophone), Ian Underwood (saxophone), Zappa (guitare, chant), Ray Collins (chant). Don 'Sugarcane' Harris (violon) et Lowell George (guitare) participent à l'album, qui sera suivi, la même année, de Chunga's Revenge, album plus ou moins solo de Zappa (du moins, sorti sous le seul nom de Zappa).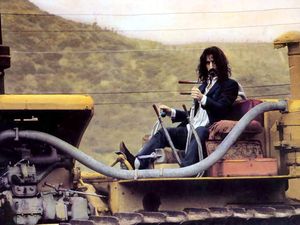 Le titre donnant son nom à l'album l'achève, et consiste en un rappel de concert (titre enregistré live) constitué de boucan infernal et assez insupportable pour les oreilles délicates, 2 minutes de carnage qui serait la manière que Zappa aurait choisie pour lancer un défi à la fameuse tradition sacro-sainte des rappels en fin de concerts. Le reste de l'album est enregistré à moitié en studio, et à moitié en live, et alterne entre morceaux expérimentaux très barges et de titres nettement plus conventionnels et accessibles, comme le cultissime My Guitar Wants To Kill Your Mama. L'album n'est pas le plus facile d'accès de Zappa (mais à côté de Lumpy Gravy ou 200 Motels, c'est assez facile d'accès quand même !). L'album se veut une sorte de suite à Burnt Weeny Sandwich, album de 1970 assez dans le même état d'esprit. Les deux albums seront d'ailleurs, un temps, vendus ensemble en un double album.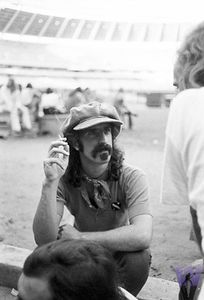 Totalement barré et free (Oh No, Prelude To The Afternoon Of A Sexually Aroused Gas Mask, The Eric Dolphy Memorial Barbecue, Toads Of The Short Forest), Weasels Ripped My Flesh est, sans être un des sommets de Zappa, un disque franchement bon, voire même très réussi, à conseiller aux fans. 43 minutes (un peu moins en vinyle, Didja Get Any Onya ? ayant été rallongé de moitié pour le CD - en vinyle, il ne durait que 3,42 minutes) de pure dinguerie à la Zappa de la grande époque !
FACE A
Didja Get Any Onya ?
Directly From My Heart To You
Prelude To The Afternoon Of A Sexually Aroused Gas Mask
Toads Of The Short Forest
Get A Little
FACE B
The Eric Dolphy Memorial Barbecue
Dwarf Nebula Professional March & Nebula
My Guitar Wants To Kill Your Mama
Oh No
The Orange County Lumber Truck
Weasels Ripped My Flesh