Je ne possède en tout et pour tout que deux albums des Smashing Pumpkins : Mellon Collie And The Infinite Sadness (grand double album de 1995, leur sommet) et MACHINA/The Machines Of God, album de 2000, accessoirement le dernier album du groupe avant leur dissolution en 2000. Il sera suivi d'un MACHINA II/The Friends & Enemies Of Modern Music, album de 2000 (aussi) qui ne sortira pas en CD mais sera proposé en téléchargement sur le site du groupe (en 2000, c'était rare). Puis le groupe cessera son activité (Billy Corgan, chanteur et leader, fondera Zwan, qui ne marchera pas fort), et reviendra en 2007 avec Zeitgeist. Au moment de l'enregistrement de MACHINA/The Machines Of God, les Citrouilles sont constituées de Billy Corgan (chant, guitare), James Iha (guitare), D'Arcy Wretzky(basse) et Jimmy Chamberlin (batterie). Mike Garson (piano) apparait sur Glass And The Ghost Children. L'album a été produit par Billy Corgan et Flood, et est assez sombre.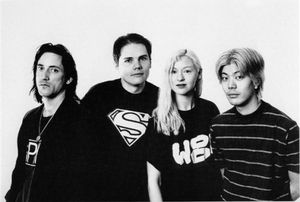 Chamberlin, Corgan, D'Arcy, Iha
En fait, c'est même un disque totalement sombre ! Crypté, mystique (la pochette offre plusieurs variations sur la fameux oeil de Dieu, qu'on voit notamment, dans un sens, au centre de la pochette), l'album dure presque 70 minutes (mais seulement trois titres sont vraiment longs : Heavy Metal Machine dure un peu moins de 6 minutes, tout comme Blue Skies Bring Tears, et Glass And The Ghost Children dure 10 minutes), offre 15 titres, et baigne dans une atmosphère aussi lourde (Heavy Metal Machine, The Everlasting Gaze) que pesante (dans le sens triste). Ce disque qui fut mon premier album du groupe regorge de grandes chansons aussi mélodiques que possible : I Of The Mourning, Stand Inside Your Love (mes deux préférées), The Imploding Voice, The Crying Tree Of Mercury, Try, Try, Try, The Everlasting Gaze (et son riff tueur), Glass And The Ghost Children ou Wound.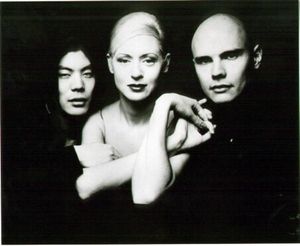 La batterie tape fort, très fort (I Of The Mourning et son final apocalyptique, What is it you want to change ?), les guitares sont heavy, grunge par moments. Certes, la voix de Corgan est souvent à la limite de l'irritation tant elle monte haut dans les aigus, tant elle est nasillarde, mais c'est le seul vrai défaut (et encore, on s'y fait) de l'album. Ce n'est pas le sommet des Pumpkins (Mellon Collie... est insurpassable), mais MACHINA/The Machine Of God, plongée dans un univers trouble (et le livret CD ne fait rien pour atténuer ça : papier râpeux, apparence de vieux grimoire à la Voynich, symboles mystiques et ésotériques), est probablement le second sommet du groupe. Et pendant 7 ans, ce fut leur chant d'adieu. Un beau (mais difficile d'accès) chant d'adieu !
The Everlasting Gaze
Raindrops + Sunshowers
Stand Inside Your Love
I Of The Mourning
The Sacred And Profane
Try, Try, Try
Heavy Metal Machine
This Time
The Imploding Voice
Glass And The Ghost Children
Wound
The Crying Tree Of Mercury
With Every Light
Blue Skies Bring Tears
Age Of Innocence