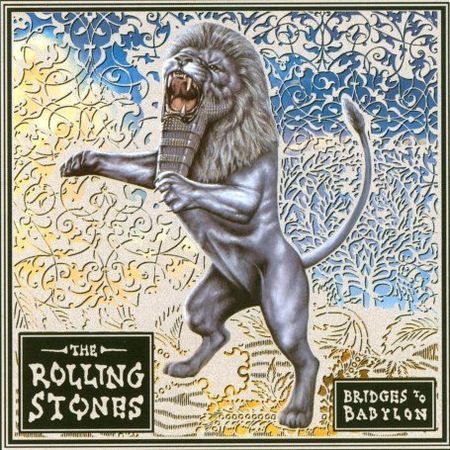 21ème album studio des Rolling Stones (et avant-dernier), Bridges To Babylon est sorti en septembre 1997. Sous sa pochette assez amusante (et que j'aime beaucoup) et son titre nébuleux se cache un des ratages absolus des Stones, leur pire album depuis Dirty Work (ou plutôt, depuis Undercover, Dirty Work étant franchement imbattable et incomparable dans le registre du ratage). Il n'y à qu'une seule chanson, sur les 13 (pour 62 minutes) de l'album, que j'aime vraiment, et c'est la huitième, Saint Of Me, franchement excellente. Bridges To Babylon est le second album des Stones sans Bill Wyman (remplacé, comme pour Voodoo Lounge, par Richards et surtout Darryl Jones). On y trouve aussi Billy Preston (orgue), Wayne Shorter (saxophone), Darrell Leonard (trompette), Jim Keltner (percussions), Don Was (piano, production), Matt Clifford (piano), Bernard Fowler et Blondie Chaplin (choeurs)...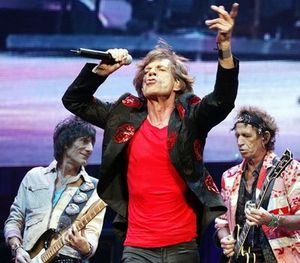 Là où Bridges To Babylon pêche, c'est par sa longueur, plus d'une heure de musique, et franchement, très peu de bonnes chansons. Si Saint Of Me, Flip The Switch et Gunface peuvent le faire (même si je n'aime que la première citée, je reconnais que les deux autres envoient la patate), le reste, comme Already Over Me, Anybody Seen My Baby ? ou Might As Well Get Juiced, sont embarrassantes, surtout comparées aux chansons de Voodoo Lounge et A Bigger Bang (et mieux vaut ne pas les comparer à, par exemple, Sway ou If You Can't Rock Me, chansons des années 70 !). Le groupe, pourtant, semble en forme, c'est juste les chansons qui ne vont pas, elles sont banales, sans relief, sans intérêt.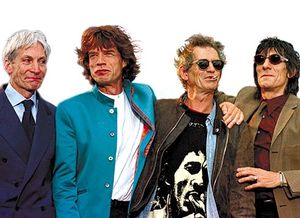 Voici donc un triste recul pour les Stones. Après un album qui laissait présager d'un bon retour (Steel Wheels) et une confirmation encore supérieure (Voodoo Lounge), Bridges To Babylon est à désespérer. Heureusement que les Stones, 8 ans plus tard, parviendront à nous offrir un A Bigger Bang monstrueux (sans doute leur denrier, leur ultime album studio, ils se font plus tous jeunes, quand même - mais on peut espérer !), qui parviendra à faire oublier ce disque à la belle pochette, mais au contenu franchement insignifiant.
Flip The Switch
Anybody Seen My Baby ?
Low Down
Already Over Me
Gunface
You Don't Have To Mean It
Out Of Control
Saint Of Me
Might As Well Get Juiced
Always Suffering
Too Tight
Thief In The Night
How Can I Stop ?