Le 16 juin 2004, Phil Collins se produisait au Palais Omnisport de Bercy, à Paris (il s'y produira aussi le jour d'avant, et le jour d'après). Quelques mois après sa prestation du 16 juin, entièrement filmée (le seul des trois concerts de Bercy à l'avoir été), le DVD du live sort, Finally...The First Farewell Tour. Deux galettes proposant le live dans son intégralité, mais aussi les clips originaux de l'ensemble des chansons interprétées, plus des documentaires et divers bonus. Ce concert du 16 juin 2004, j'y étais, dans la salle. Ce fut un excellent concert, que j'ai adoré, et vous imaginez qu'en ce qui me concerne, le revoir intégralement en DVD est vraiment génial (combien de concerts auxquels vous avez assisté existent intégralement en DVD officiels ?). A chaque fois, c'est comme si j'y étais, comme ce mercredi 16 juin 2004 (je précise le jour, ayant le ticket en face des yeux, ah ah).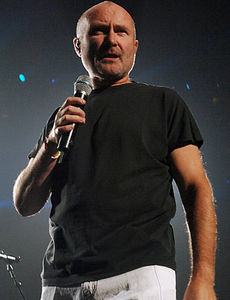 Après un triple solo de batterie tuant (Collins, Chester Thompson et un percussionniste), le show démarre en fanfare, et Collins alterne entre chansons rythmées et pop et ballades. Dans la première catégorie, Something Happened On The Way To Heaven, Don't Lose My Number, Hang In Long Enough, In The Air Tonight, Sussudio (qui achève le concert avant deux rappels) ou Dance Into The Light. Dans la seconde catégorie, Come With Me, One More Night, Against All Odds, A Groovy Kind Of Love ou No Way Out. Superbe duo entre Collins et une choriste à la voix d'or sur Separate Lives. Un Take Me Home d'enfer en final. Versions a cappella de It's Not Too Late et du True Colours de Cindy Lauper (que Collins avait repris en 1998). Le dernier album studio (Testify, 2002) est bien représenté avec le tube Can't Stop Loving You, It's Not Too Late et Come With Me. On a même droit au You'll Be In My Heart du dessin animé Tarzan (mais, heureusement, pas au On My Way de Frère Des Ours ! Mais No Way Out est cependant issu de la bande-son de ce même dessin animé). Le plus mauvais album de Collins, Dance Into The Light, a droit à deux titres : l'éponyme et Wear My Hat, assez dispensables. Aucun titre du moyen (mais appréciable) Both Sides, en revanche. I Missed Again, issu du premeir album de 1981, est le titre surprise. Super.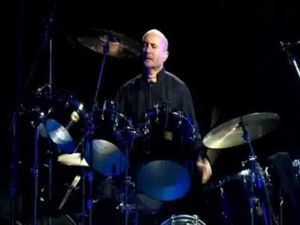 Qualité sonore et visuelle époustouflantes, tubes à profusion (Easy Lover, Another Day In Paradise, Sussudio, Take Me Home, In The Air Tonight, Can't Stop Loving You...), musiciens en forme (bassiste Leland Sklar, batteur Chester Thompson, guitariste Darryl Stuermer - Thompson et Stuermer ont participé à Genesis en live de 1977 à aujourd'hui). Collins est aussi en forme, il semble s'éclater (dommage que désormais, à moitié sourd d'une oreille et insensible des mains suite à une opération, il ne puisse plus jouer de la batterie ou d'un autre instrument, et qu'il ne remontera plus sur scène). On regrettera l'absence de quelques super chansons comme If Leaving Me Is Easy, I Don't Care Anymore, We Fly So Close, Both Sides Of The Story, Testify ou I Wish It Would Rain Down. Mais bon, on ne peut pas toutes les jouer non plus, et ce concert reste franchement extraordinaire.
DVD 1
Drums, Drums & More Drums (intro)
Something Happened On The Way To Heaven
Against All Odds
Don't Lose My Number
Chat To Audience (dialogue)
You'll Be In My Heart
One More Night
Can't Stop Loving You
Hang In Long Enough
True Colours
Come With Me
A Groovy Kind Of Love
I Missed Again
Another Day In Paradise
No Way Out
Separate Lives
DVD 2
In The Air Tonight
Dance Into The Light
You Can't Hurry Love
Two Hearts
Wear My Hat
Easy Lover
Sussudio
Encores (rappels) :
It's Not Too Late
Drum Solo/Take Me Home