Killing Machine, cinquième album studio de Judas Priest, est sorti en 1978 en Angleterre, et en 1979 aux USA. Il faut ici préciser que la version américaine de l'album possède un titre supplémentaire rajouté en seconde position de la seconde face (une reprise de la chanson de Fleetwood Mac The Green Manalishi (With The Two-Pronged Crown), au demeurant excellente) et un titre d'album différent (les USA trouvant que Killing Machine sonnait trop agressif et virulent), Hell Bent For Leather. Mais une pochette identique. Au moment de l'enregistrement de ce disque qui fait suite au phénoménal Stained Class de 1978, le groupe est constitué de Rob Halford (chant), Ian Hill (basse), K.K. Downing et Glenn Tipton (guitares) et Les Binks (batterie).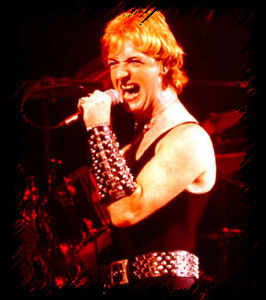 Killing Machine (qui, depuis, est en CD avec le titre supplémentaire américain, mais sous son titre d'album britannique) est un excellent album de hard-rock de plus pour le Priest. Un an/un an et demi avant de conquérir la scène métal d'une manière définitive avec British Steel (et le tube Breaking The Law), Judas Priest, ici, offre quelques classiques de leur répertoire : Delivering The Goods, Rock Forever, Hell Bent For Leather, Running Wild, et cette reprise insensée de The Green Manalishi (With The Two-Pronged Crown) de Fleetwood Mac (période Peter Green), donc. Comme toujours, la voix du chanteur gay clouté-cuir Rob Halford est parfaite, surtout dans les aigus. Judas Priest, cependant, devient vraiment un groupe caricatural (entrée sur scène avec moto, tenue cloutée et en cuir, show puissants) avec ce disque.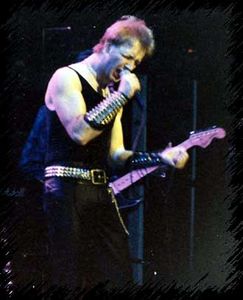 L'année suivante (ou la même année, si on prend en compte la sortie américaine, 1979), le groupe sortira un live aussi cultissime et démentiel que douteux (j'i reviendrai longuement, ça sera le prochain, et dernier, article sur Judas Priest ici), Unleashed In The East, qui contiendra deux titres de Killing Machine parmi plein d'autres classiques du groupe (plus des bonus-tracks insensés, dont trois titres issus originellement de Killing Machine). Avec Killing Machine, le groupe s'impose définitivement, et ce disque, s'il n'est pas parmi mes préférés, est vraiment une réussite !
FACE A
Delivering The Goods
Rock Forever
Evening Star
Hell Bent For Leather
Take On The World
FACE B
Burnin' Up
Killing Machine
Running Wild
Before The Dawn
Evil Fantasies