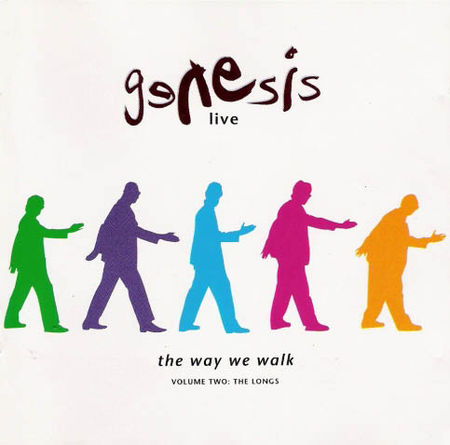 Second volet de la courte série (deux albums) des The Way We Walk, qui représentent la tournée 1991-92 de Genesis (la dernière avant le split de 1993), The Way We Walk, Vol. 2 : The Longs est aussi réussi que le premier volet (The Shorts) était sans grand intérêt. Comme pour le premier volume, on a ici affaire à des prises live issues de la tournée We Can't Dance. Mais ici, il s'agit uniquement de titres de longue durée (pour un peu plus de 70 minutes, il n'y à ici que 6 titres en tout et pour tout). L'album s'ouvre sur un medley d'anciens titres, d'une durée de quasiment 20 minutes, et incluant aussi bien Dance On A Volcano, Firth Of Fifth, The Lamb Lies Down On Broadway que des bribes de That's All, Follow You Follow Me, Illegal Alien ou The Musical Box. Seul reproche, aucun titre ou presque n'est interprété en intégralité, medley oblige. Mais dans l'ensemble, c'est une pièce musicale énorme, je regrette que pendant la tournée de 2007, ils ne l'aient pas proposé.
L'album se finit sur 6 minutes (titre le plus court !) de double solo de batterie, entre Phil Collins et Chester Thompson (Drum Duet, le bien-nommé). Le reste de l'album est composé de longs titres issus de Genesis, Invisible Touch ou We Can't Dance. Notamment cet immense diptyque Home By The Sea/Second Home By The Sea, histoire de maison hantée absolument magistrale. Ou ce Driving The Last Spike de 10 minutes, beau à chialer, extrait de We Can't Dance. Domino reste ce qu'il est, un titre immense, magnifié en live, tandis que le long et touchant Fading Lights, dernier titre du dernier album de Genesis avec Philou, est une petite merveille (malgré une petite longueur au centre, je trouve).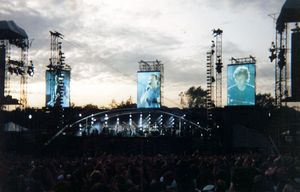 The Way We Walk, Vol. 2 : The Longs est un live superbement bien produit (le son est d'enfer, comme pour le premier volet, d'ailleurs) et rigoureusement indispensable à tout fan de live et du groupe. Jamais emmerdant malgré la très longue durée du disque et, surtout, des morceaux. Superbe !
Old Medley (Dance On A Volcano/The Lamb Lies Down On Broadway/The Musical Box (Closing Section)/Firth Of Fifth (solo)/I Know What I Like (In Your Wardrobe)...)
Driving The Last Spike
Domino (In The Glow Of The Night/The Last Domino)
Fading Lights
Home By The Sea/Second Home By The Sea
Drum Duet